Assalamu alaykum and welcome.
When I set out to review and improve "30 Days with the Names of Allah" (which I first compiled in 2017), I was excited to offer a better product to the Muslim community; however, I was conscious that at least some children – including my own – had aready completed it.
So here is the second installment: 30 More Names of Allah to explore with your children, to reflect upon and to make a living part of our faith as Muslims, in sha' Allah.
DOWNLOAD your FREE 30 MORE days with the Names of Allah workbook HERE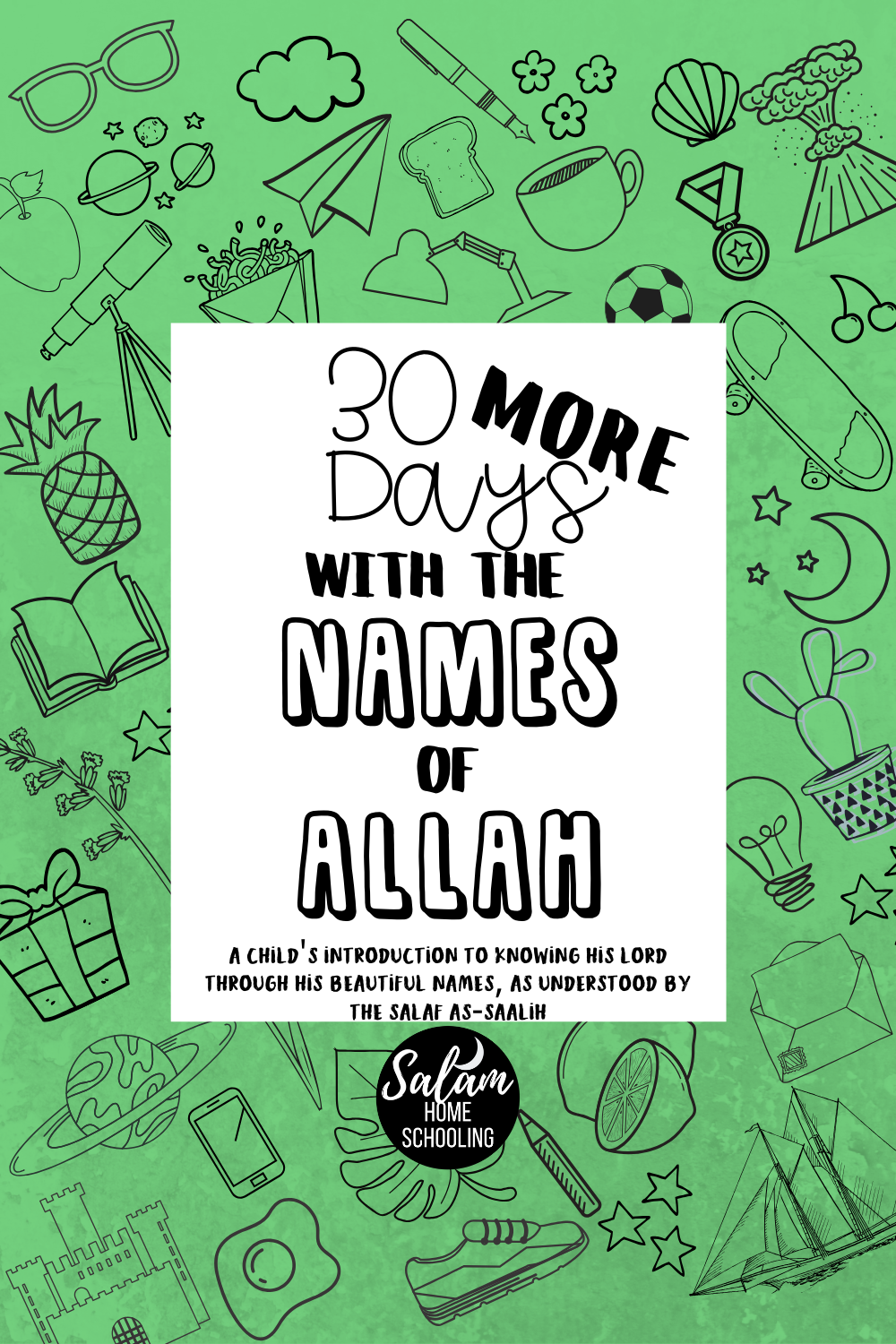 Using both workbooks
Because my eldest child has already completed the study of the first set of 30 Names of Allah, he will be studying this workbook, while his younger brother will tackle the first set, insha'Allah. I think I might be wonderful to have each of them present their own name of Allah of the day each day in Ramadan (insha'Allah it goes that well! … alhamdulillah, a mom can dream!).
Authentic Sources
The workbook containes all the sources I used. They are:
I tried my best to use the exact explanations of the scholars above. I opted for simpler words where needed, but made sure to convey the intended meaning, insha'Allah. All good is from Allah and any mistakes are my own.
About this workbook
If you and your children have already studied the first 30 Names of Allah included in my previous workbook, don't despair! here are 30 more.
The format is the same, each daily page includes:
One Name of Allah each day
A little Arabic handwriting practice (copying the Name of the day)
Finding the proof for the Name in the relevant ayah/hadeeth
Copywork (in English)
A small picture to colour in – or not!
A reflection question, which can be answered shortly in the space provided, it can be used as a writing prompt or a starter for a "big juicy conversation" (Bravewriter style).
Not only for Ramadan
This is not a Ramadan specific activity, but each workbook explains 30 Names , so they are ideal to be completed in Ramadan, insha'Allah!
It is a simple and meaningful daily activity to foster knowledge, and therefore LOVE, of our Creator in ourselves and our children.
There is no reason why you cannot happily include this into your ongoing homeschool, Ramadan school, Ramadan basket, book basket, family circle, madrasah, Islamic studies club… (you get the gist).
A Ramadan gift
30 MORE Days with the Names of Allah, as well as 30 Days with the Names of Allah and any other printable on this site to this date (April 2020), is free to dowlnoad. It is my gift to my family and yours. I ask Allah to accept this humble effort and benefit my family and yours through it.
Allah let us reach this Ramadan and benefit from it, ameen.
DOWNLOAD your FREE 30 MORE days with the Names of Allah workbook HERE