17 Ramadan 1441/ 10 May 2020: As of today the free PDF 30 Days with the names of Allah has been edited to correct the following typos: The proof for the Name ash-Shakoor is surah Faatir 35:34 (NOT surah Hashr) and the proof of the Name as-Samee' is surah al-Baqarah 2:127 (NOT 126). Jazakillahu khayran to the sister who informed me.
Assalamu 'alaykum and welcome.
By the mercy of Allah I started the task I had put off for a long time: revising the printables I offered on my old blog (Islamic Bedtime Stories).
The original idea was to re-type them in a better format (getting rid of the pictures of uncertain status with regards to copyright) but I ended up re-making the workbook. I dusted off a couple more books, listened to a couple more lessons and, Alhamdulillah, there was enough in my notes for a second workbook as well. The success lays in what each of us does with this resource, and every good is from Allah alone.
Download your FREE 30 Days with the Names of Allah workbook HERE
Knowing Allah
The various branches of knowledge are ranked for importance according to the importance of their subject matter. Hence, nothing is more inportant, more foundamental, more desperately needed than knowldge of Allah.
As someone who experienced half of her life as an active member of another religion that claims belief in the One God, I have deep appreciation of the fact that Allah Himself gave us knowledge of Him. We cannot encompass Him with our limited intellect, of course, but He told us a lot about Himself. Every bit of this precious information has profound benefits in our worldly life and far reaching consequence for our Hereafter.
Authentic Sources
The workbook containes all the sources I used. They are:
I tried my best to use the exact explanations of the scholars above. I opted for simpler words where needed, but made sure to convey the intended meaning, insha'Allah. All good is from Allah and any mistakes are my own.
About the workbook
They can be suitable for most ages. Because I kept the activities quite open, it is not very age specific.
It includes:
One Name of Allah each day
A little Arabic handwriting practice (copying the Name of the day)
Finding the proof for the Name in the relevant ayah/hadeeth
Copywork (in English)
A small picture to colour in – or not!
A reflection question, which can be answered shortly in the space provided, it can be used as a writing prompt or a starter for a "big juicy conversation" (à la Bravewriter).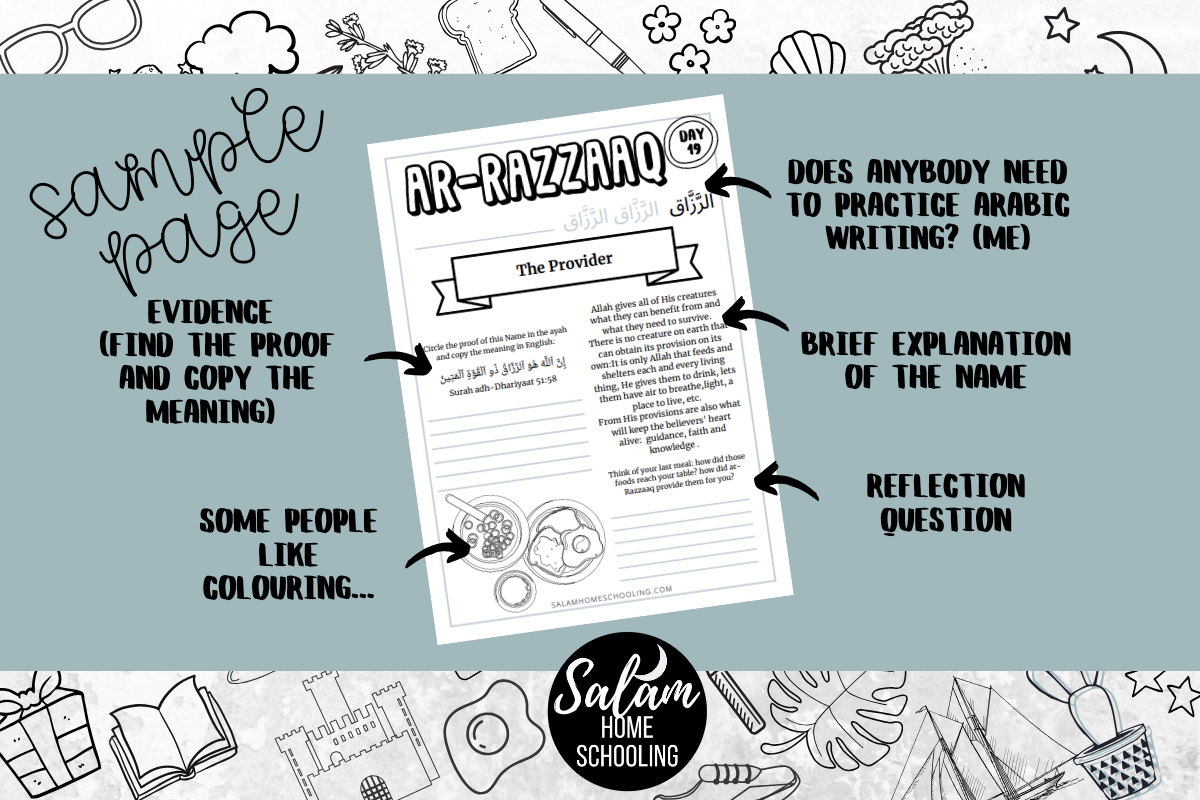 A Ramadan Workbook?
This is not a Ramadan specific activity, but each workbook explains 30 Names , so they are ideal to be completed in Ramadan, insha'Allah!
It is a simple and meaningful daily activity to foster knowledge, and therefore LOVE, of our Creator in ourselves and our children.
There is no reason why you cannot happily include this into your ongoing homeschool, Ramadan school, Ramadan basket, book basket, family circle, madrasah, Islamic studies club… (you get the gist).
A Ramadan gift
30 Days with the Names of Allah, as well as 30 More Days with the Names of Allah and any other printable on this site to this date (April 2020), is free to dowlnoad. It is my gift to my family and yours. I ask Allah to accept this humble effort and benefit my family and yours through it.
Allah let us reach this Ramadan and benefit from it, ameen.
DOWNLOAD your FREE 30 Days with the Names of Allah workbook HERE