Assalamu 'alaykum and welcome.
Download your RAMADAN DOODLE CHALLENGE list HERE.
I am getting the usual last minute rush of pre-Ramadan ideas. New concepts emerge thick and fast from the brain fog, between teaching to tell the time and washing a big pile of dishes.
As we know, the Companions of the Prophet Muhammad (salla Allahu 'alayhi wa sallam), would encorage their children to fast, even if they had not yet reached puberty. If the children struggled, they would distracted them with a simple toy.
Al-Rubay' bint Mu'awwidh (may Allah be pleased with her) said while describing how the Prophet (salla Allahu 'alayhi wa sallam) told them to fast 'Āshūrā:
We used to make toys out of dyed wool for the children and keep them with us so if the children asked us for food we would give them the toys to distract them until they completed their fast.

(Sahih Muslim)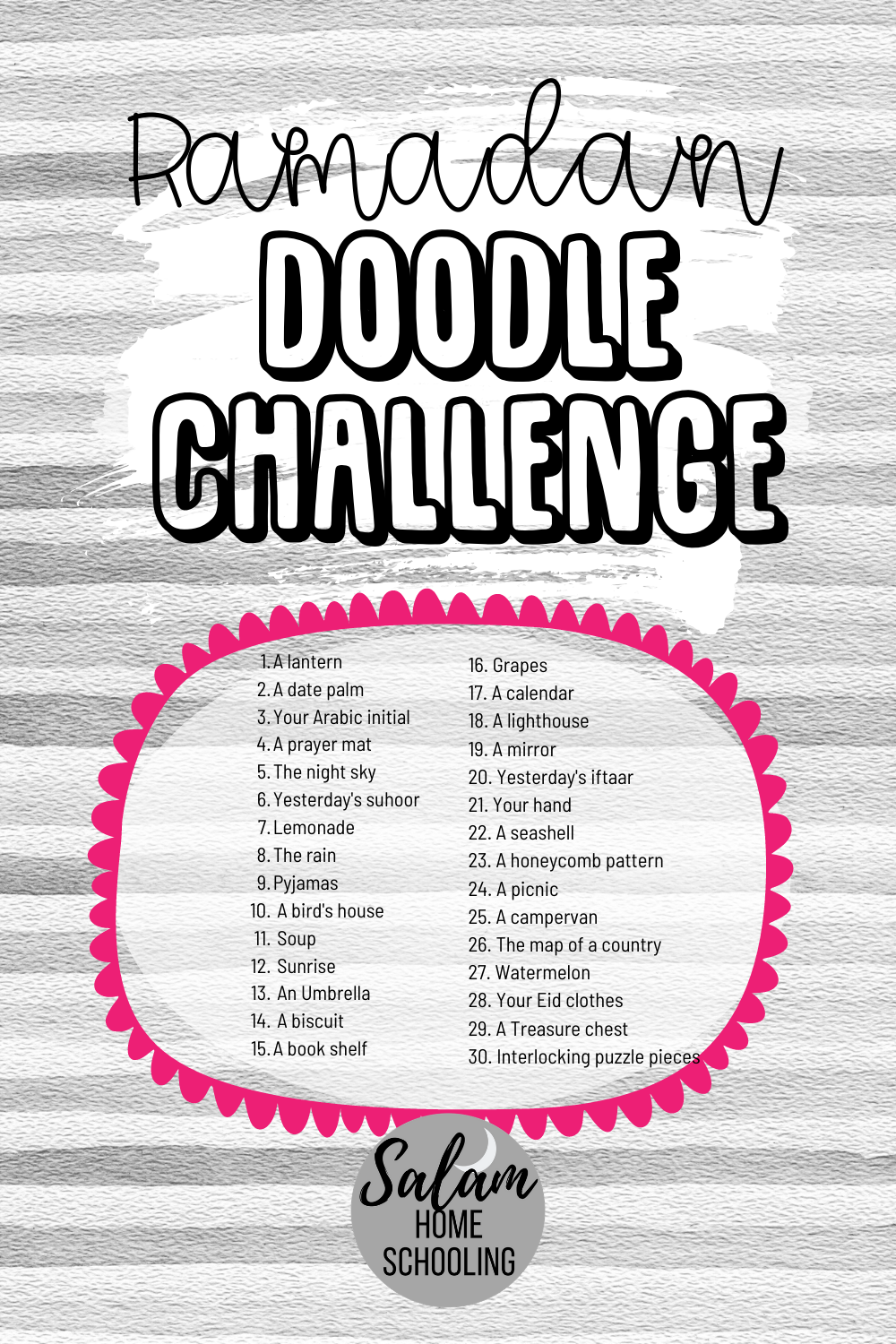 Engage the brain to distract the stomach
DISCLAIMER: Islam instructs us to follow the middle way and the just and balanced approach in all things. Training our children to fast is no different: It must be tackled with wisdom, without being too lax or too strict. The age and ability of each child must be taken into consideration and their health and safety must always come first (as is the case for us adults too).
Having said so, many children can fast without any problems, Allahumma baarik, and they should be encouraged and supported in it.
A major part of the upbringing of our children is to train them to perform the legislated acts of worship, even before the age they become obligatory for them. It is useful to have something ready to divert the focus of our kids from food when they start to feel hungry (but can safely be encouraged to power through).
The Ramadan Doodle Challenge is only one of of the many possibilities, some others are:
A small gift every day (collectible cards, marbles, small toys, puzzles, magazines or books…). This is usually very well received but it can get expensive and can produce an amount of cheap toy clutter in the house.
Art and crafts materials: try a different activity every day (different techniques, media, styles, subjects…)
Line up 30 STEM activities and try one each day (find some tween friendly STEM and Lego activities here).
Compile a family scrapbook.
Prepare a list of board games and play a different one each day (list everything you have, look online for free printable ones, ask your friends to swap with you to have the whole month covered!)
Have your child take one photo each day – which should not include people or animals – that represents his or her day and then assemble the Ramadan picture album after Eid.
Use journaling prompts (This is a list of Ramadan Journaling Prompts that you can print for free).
Why doodles?
It is inexpensive.
You already have everything you need (paper and a pencil and you are good to go!)
It is suitable for any age, from toddler to adult.
It is fun, especially if you all attempt the daily doodle together.
It is relaxing and it will provide a welcome distraction from rumbling tummies!
Download your RAMADAN DOODLE CHALLENGE list HERE.
The PDF includes a list as well as individual cards to cut out, in case you (like me) want to only reveal one each day and keep the rest a surprise.
Have a blessed Ramadan!
If your children (or yourslef!) take part in this challenge, please share your doodles on instagram and tag @salamhomeschooling !
I ask Allah to allow us to witness this Ramadan and gain His rewards and forgiveness. I also ask Him to guide us establish ourselves and our families upon what pleases Him.